Also known as a cctv inspection, sewer televising involves inserting a CCTV sewer camera into your pipes and inspecting the segment from manhole to manhole. This inspection will give our experts a clear view inside your sewer pipes, allowing us to find what's blocking or slowing down your sewer line.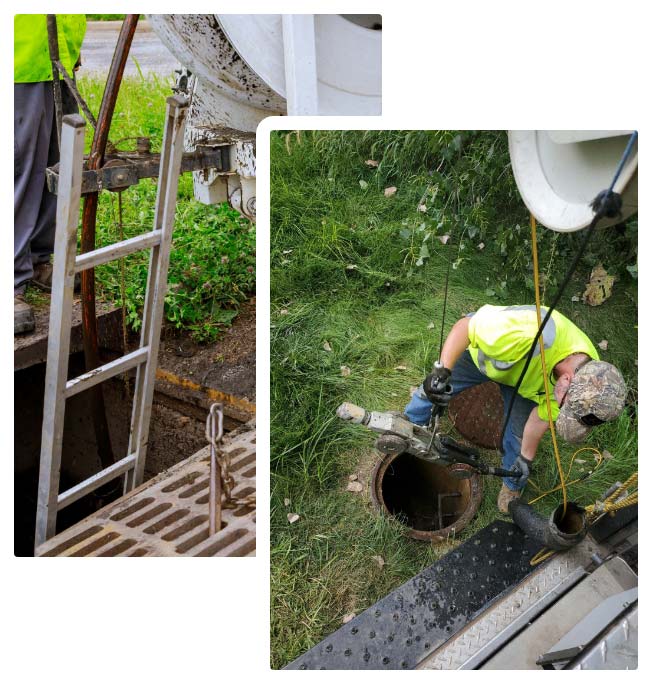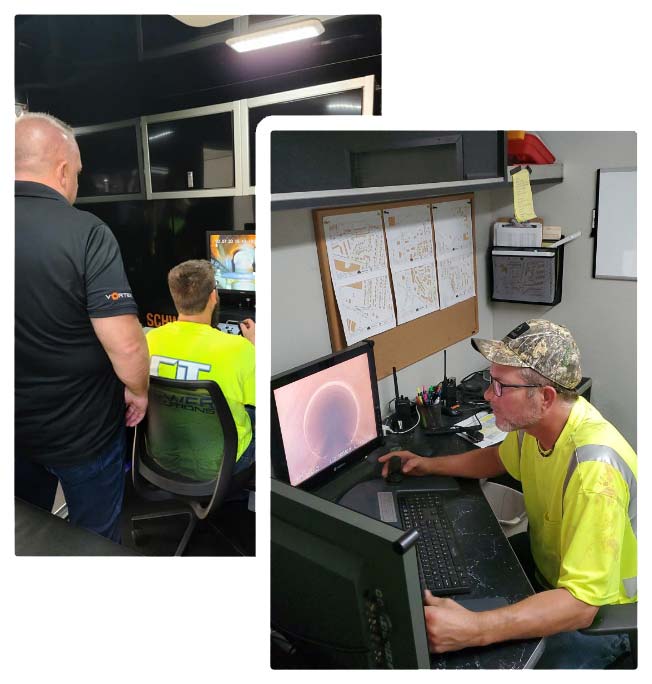 Why CIT Offers Sewer Televising
Sewer lines require regular maintenance in order to function properly. Assessing the condition of sewer lines by CCTV pipe inspection contractors such as CIT alerts the engineers and municipalities to all potential risks, such as deterioration, blockages and structure collapse. Additionally, CCTV sewer inspections allow the municipality to track and monitor the degradation of the pipe to prevent expensive emergency repairs in the future. Proactive maintenance is much cheaper than reactive emergency repairs!
After the inspection is completed, our experts will write a full report on the condition of your sewer line, including the problem areas, blockages, and our recommended solution.
How Sewer Televising Works
Our sewer cameras are designed for inspecting residential or commercial pipes ranging from 4" to 96" inches in diameter. The camera is attached to a robotic crawler tethered to a cable reel with up to 1,600'. Equipped with a high intensity LED lights, pan and tilt and HD video, our camera operators and equipment will not miss a defect.
Benefits Of Sewer Televising
Minimally invasive

Sewer televising does not require any digging or trenching. All we need to inspect your pipes is access to a manhole or clean-out.

Good for preventative maintenance

Even if you don't notice any problems with your sewer pipes, having them inspected regularly helps pinpoint at-risk sections of your pipe before they fail completely.

Fast

It only takes about 30 – 45 minutes for our experts to inspect your sewer line.

Cost-effective

Sewer televising will spot problems before they worsen, preventing you from spending more money on costly repairs.
CROSS BORE PREVENTION AND DETECTION A CROSS BORE IS DEFINED AS THE INTERSECTION OF UNDERGROUND UTILITIES, INCLUDING: ELECTRIC, COMMUNICATION, SEWER OR GAS.
CIT has performed tens of thousands of pre-and-post inspections on cross-bore prevention projects Throughout the central midwest! CIT has the ability to complete large projects with thousands of laterals in a timely manner with the ability to mobilize multiple trucks when needed to get the job done! CIT's sewer inspections are documented with written reports, hand drawn maps, GPS locating information, photographs and digital video recordings.
To keeping both contractors and the public safe it is integral to avoid cross-bore of sanitary or storm sewers. CCTV Inspection can be completed on all mainlines and laterals in the area ensure all pipes are found. CIT also has the ability to clean laterals from the mainline Our Mainline and Lateral inspection systems are equipped with an integrated sonde transmitter allowing a precision locator to be used to determine the location and depth of the sonde. By locating the sewer prior to the use of plowing, percussive moles, or horizontal directional drills the risk of having a cross-bore on the job site is mitigated.